---
OEPD615HV Details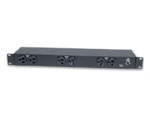 Power Distribution for the Smart Buyer
The Minuteman™ OEPD615HV includes standard features and capabilities that you'll pay extra for elsewhere.
PDF Brochure | Get a Quote | Where to Buy
Features & Benefits

Specifications

Rackmount and 0U Brackets Included
More Outlets for your Dollar than the Competition
15-foot cord standard
Unit can be mounted vertically or horizontally
Premium Features at a Lower Cost
High Standards - Unit is Listed with higher UL 60950-1 standards
Great Limited Warranty
Click on Product Photos above to zoom in on product.
Click on Outlet and Plug icons above to open a larger image.